Without wrapping paper, what would you do?
'Wrapping paper' is also known as 'gift wrap' and in the early 1900s it was known as 'gift dressing'.
Wrapping paper is used to attractively hide the content of presents using anything from paper to bags to boxes.

Wrapping paper is commonly held around the gift and taped to itself with 

pressure-sensitive tape

 and embellished with ribbon and ribbon bows.

Wrapping paper was first recorded in Ancient China, dating back to 100BC, and was probably used for protecting items from damage, rather than to hide its contents.
Thick, decorative wrapping paper was often used by the wealthy in the 1800s to cover gifts, and in the early 1900s, plain red, white or green tissue paper was commonly used to wrap Christmas presents.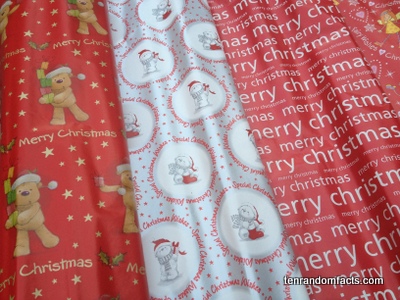 In 1917, Rollie and J.C. Hall, founders of the greeting card company Hallmark, sold out of tissue paper in their retail store in the lead up to Christmas, so they supplied customers with fancy coloured envelope linings as an alternative, which were extremely popular, and this caused decorative wrapping paper to be quickly added to their line of products.

Wrapping paper is sometimes reused, but is usually discarded, and in the United States alone, 3.6 million tonnes (4 million tons) of the paper and shopping bags from the Christmas season is sent to the rubbish dump, and accounts for 4/5 of the extra waste in that period.

Decorated paper is the most common type of wrapping paper, although historically, fabric wrapping cloths, known as 'furoshiki' in Japan and 'bogaji' in Korea were typically used, and these, as well as other fabric wrappings and reused paper from various sources, are sometimes used as an environmentally friendly alternative.
Up until the early 1900s, brown paper was typically used as wrapping paper for gifts and purchased goods.
People spend large quantities of money on wrapping paper; an estimated $2.6 billion in the United States, every year.
Bibliography:
Garber M, Wrapper's Delight: a Brief History of Wrapping Paper, 2012, The Atlantic, http://www.theatlantic.com/technology/archive/2012/12/wrappers-delight-a-brief-history-of-wrapping-paper/266599/
Gift Wrapping, 2013, Wikipedia, http://en.wikipedia.org/wiki/Gift_wrapping
Amazon: