Add just the right amount of stock to your dish.
Stock is typically a liquid that is used for flavouring savoury food.
Stock is generally made by extracting flavour from meat, herbs, spices, bones and/or vegetables, via simmering or cooking in water, or sometimes wine.
Broth and stock are similar, although the latter generally lacks solids and is used as a flavouring, while the former usually contains solids and is eaten like soup.
Sauces like gravy, and soups use stock most often, which is their main ingredient, while it is also used in other main dishes to increase their flavour.
To prevent waste, stock can be stored in a freezer, or in the refrigerator for a few days, which can then be boiled every three or four days until used.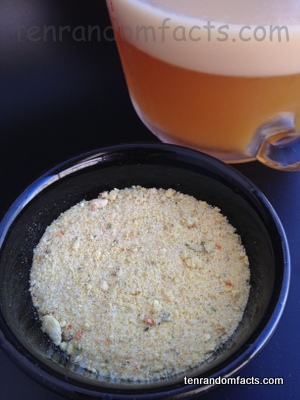 Ready-made stock powder or cubes, that only require the addition of water, can be found sold commercially in supermarkets, and these are quick and easy to use and give instant flavour, although ready-made liquid stock is also available.
Stock ranges from brown to white in colour, depending on the ingredients and process of cooking; and these are named fond blanc and fond brun respectively.
Common types of stock include fish, chicken, vegetable, lamb and veal.
Recipes for mushroom-based and beef-based stocks surfaced around the mid 1600s, and many recipes have developed over time.
Although nutritional value is dependent on the type of stock, common nutrients of significance include protein, riboflavin and niacin, as well as sodium, and many other vitamins and minerals are also present.
Amazon: