Railroad tracks are quite directional and controlling, if you think about it.
Railroad tracks are constructions that direct and provide a platform for trains to move along.
'Railroad tracks' are also known as 'railway tracks', 'train tracks', 'permanent ways', and simply 'tracks'.
The width of railroad tracks can vary greatly, from 0.38 to 2.14 metres (1.25 to 7 feet), with the standard gauge measuring 1.435 metres (4.7 feet).
Four main parts make up a railroad track – a pair of rails, which hold the train's wheels; sleepers, which support and hold the rails in place; fasteners, that secure the sleepers and rails together; and the ballast that the sleepers sit on, which allows water to drain away and reduces the growth of vegetation around the track.
Early railroad tracks were known as 'wagonways' and were grooves cut into the ground or rock, to guide the movement of wheeled vehicles, and these are believed to have existed as early as 600 BC, and later they were commonly used in mines, from the first century BC.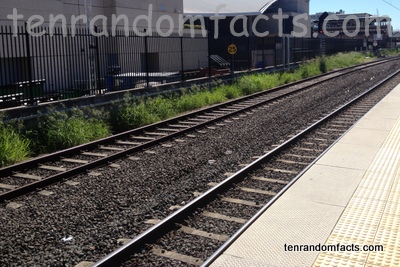 Railroad tracks are typically made of wooden or concrete sleepers and steel rails, that are placed on a 'ballast', a track bed of crushed stone, or a concrete platform known as a 'ballastless'.
Improvements on wagonways in mines were made with the use of timber, until iron railroad tracks were first crafted in the early to mid 1700s, while more practical steel rails emerged in 1857, which boasted increased durability.
The rails of railroad tracks were originally too fragile to support the heavy weight of a steam locomotive, although an innovation of long wrought iron rails, created by English railway engineer, John Birkinshaw, in 1820 led to viable, durable tracks.
The fasteners of railroad tracks have historically included the combination of baseplates and spikes, bolts or screws, while springs or clips attached to baseplates are becoming increasingly common in modern times.
Railroad tracks are to be maintained on a routine basis to avoid train derailments, which includes the spraying of tracks to ensure no plants grow there.
Amazon: