Oregano can flavour your food or restore your health.
Oregano is a herb, or the leaves, of a typically perennial plant that grows to be 20 to 80 centimetres (8 to 31.5 inches) in height.
Oregano has the scientific name of Origanum vulgare and is from the family Lamiaceae, the family of mint, that also includes many other common herbs.
'Oregano' is also known as 'wild marjoram', although is not true marjoram, and it is native to the Mediterranean and parts of Asia.
Oregano is typically used as a fresh or dried herb, although its flavour can be quite overpowering when used fresh, so it is recommended that it be removed from the food after cooking, or use dried oregano instead.
Oregano has a fragrant flavour of warmness and slight bitterness.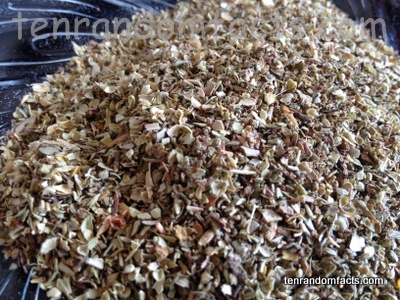 Due to World War II, oregano became more popular in the United States, due to the soldiers returning, having experienced the flavour in Italy.
Oregano is typically eaten as a seasoning on meat, vegetables, pizza and other dishes, or included in sauces, tea or oils.
Oregano is a great source of vitamin K, a good source of iron, fibre, manganese and calcium, and very high in antioxidants.
Oregano is a leafy herb, and is green when used fresh, and when 

dried, t

he leaves are crushed and are a brown-green colour.
Oregano can be used to treat respiratory, nervous and digestive problems, often in the form of ointment or tea, and was historically used as an antiseptic.
Bibliography:
Oregano, 2014, The World's Healthiest Foods, http://www.whfoods.com/genpage.php?tname=foodspice&dbid=73
Oregano, 2014, Wikipedia, http://en.wikipedia.org/wiki/Oregano
Amazon: