Napoleon Bonaparte is among the best military leaders.
Napoleon Bonaparte was an Emperor of the French, and King of Italy, from 1804 and 1805 respectively, until 1814, and was also a leader in the French military.
Napoleon Bonaparte was born into a noble family on the 15 August, 1769, in Ajaccio, Corsica, an island that is part of Europe's France, and was given the Italian name 'Napoleone di Buonaparte'.
Napoleon Bonaparte married Joséphine de Beauharnais on 9 March, 1796, but later divorced her and officially married Marie Louise of Austria on 11 March, 1810 by proxy, with later civil and religious ceremonies on the 1st and 2nd of April 1810, for the purpose of bearing an heir.
Napoleon Bonaparte is often depicted as a man of power and intellect in politics and military respectively.
Napoleon Bonaparte died in Longwood, on Saint Helena Island, where he had been living in exile for more than five years, on 5 May, 1821, aged 51 years, probably due to gastric cancer and peptic ulcer.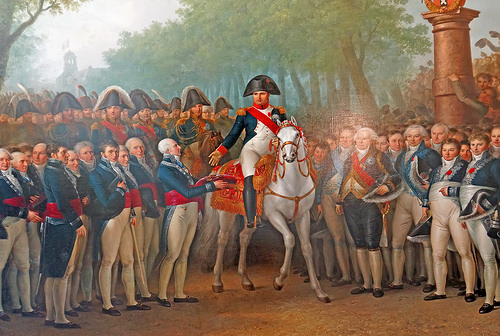 Napoleon Bonaparte is sometimes referred to as 'Napoleon I', or simply as 'Napoleon', and he began using the French spelling of his name 'Napoléon Bonaparte' early in his adulthood.
Napoleon Bonaparte is known as a military expert, an initiator of reforms, and the creator of the still used Napoleonic Code which forms the basis for law in France, a number of other European countries, as well as Latin America.
Napoleon Bonaparte sold the previously French owned territory, Louisiana, to the United States in 1803, and as a result it doubled the size of the US at the time, and it funded Napoleon's future military needs.
The decline of Napoleon Bonaparte's power occurred between 1810 and 1814, after an unsuccessful attack on the Russians that came about because Russia refused to comply with Bonaparte's requests, and further attacks by Russia, Prussia, and Austria, as well as Portugal, Spain and Britain, resulted in the eventual capture of Paris, and led to Bonaparte abdicating his position as emperor.
Napoleon Bonaparte's second wife, Marie Louise bore him a son a year after they were married, and he became known as 'Napoleon II' and 'King of Rome'.
Bibliography:
Napoleon, 2014, Wikipedia, http://en.wikipedia.org/wiki/Napoleon
Napoleon Bonaparte, 2014, History, http://www.history.com/topics/napoleon
The Symbols of Empire, 2008, Napoleon.org, http://www.napoleon.org:81/en/essential_napoleon/symbols/
Amazon: