"It's a thriller, thriller night," – Thriller, Michael Jackson
Michael Jackson's full name was 'Michael Joseph (Joe) Jackson' and he was also known as 'MJ' or the 'King of Pop'.
Michael Jackson was a vocalist who sang pop, rock, soul, R&B, funk and disco genres as well as becoming a vocal instrument musician, a song-writer and a popular dancer, inventing moves including the 'moonwalk' and the 'robot'.
Michael Jackson was born in United States' Indiana on 29 August 1958 and died at 50 years of age in Los Angeles, California, during a tour, on the 25 June 2009, and is said to have died by involuntary manslaughter by his personal physician, Dr Conrad Murray.
Michael Jackson was lead singer of the family band of five, The Jackson 5, which he joined at the age of five and he became a soloist at age 13, releasing ten albums during his life and travelled the world on tour many times.
Michael Jackson's album Thriller is the biggest selling album ever, with estimations ranging from 51 to 65 million.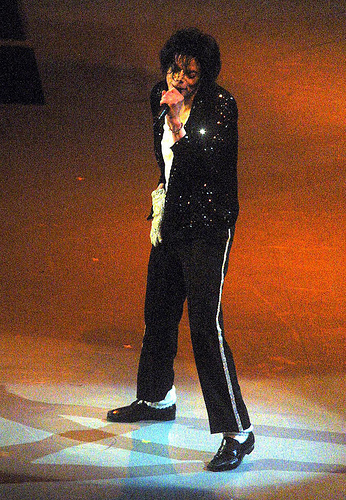 Michael Jackson
Image courtesy of Allar Janssen/Flickr
Michael Jackson suffered from child abuse, even being whipped, by his father, and Jackson himself was charged with multiple offenses during his lifetime, including child abuse, in mid 1990s and mid 2000s, with both accusations proving false.
During the 1980s, Michael Jackson was diagnosed with vitiligo, a disease that lightened his dark skin, although some said that Jackson had purposely bleached it, and even though he had nose surgery, others believed he had facial surgeries that were denied by the vocalist.
Approximately 31.1 million US residents viewed the memorial of Michael Jackson, which was not far behind the memorial of Lady Princess Diana's views of an estimated 33.1 million and 40th US President Ronald Reagan's memorial views of approximately 35.1 million and many websites including Google, Wikipedia and Twitter crashed due to usage amounts around the time of his death.
Michael Jackson divorced both of his wives after two years of being married, firstly to Elvis Presley's daughter, Lisa Marie Presley, and later his dermatologist nurse, Deborah Rowe with whom he had two children, and later on he had a third child born to a surrogate mother.
Michael Jackson is estimated to have earned $750 million and won hundreds of awards in his lifetime, most notably 26 American Music Awards and 13 Grammy Awards (US Music Awards) including the tough Grammy Legend and Grammy Lifetime Awards as well as some Guinness World Records.
Bibliography:
Michael Jackson Bibliography, 2013, Bio.com, < http://www.biography.com/people/michael-jackson-38211>
Michael Jackson, 2013, Wikipedia, < https://en.wikipedia.org/wiki/Michael_Jackson>
Amazon: 
Michael Jackson Albums