"I have a dream…" – Martin Luther King.
Martin Luther King was an African-American humanitarian and activist, as well as the leader of the African-American civil rights movements.
Martin Luther King was born on 15 January, 1929, in Atlanta, Georgia, United States, and was the second child in a family of three children.
It was originally believed that Martin Luther King was assassinated in Memphis, Tennessee, United States on 4 April, 1968, by a bullet shot by James Earl Ray, a criminal, however a jury, in 1999, gave the verdict that the government and others were involved in a conspiracy, that had King assassinated.
Martin Luther King had a strong belief in Jesus, particularly focusing on a verse from the Book of Matthew in the Bible: "love your neighbour as yourself".
Martin Luther King married Coretta Scott on 18 June, 1953, and had four children, one of which was named Martin Luther King III.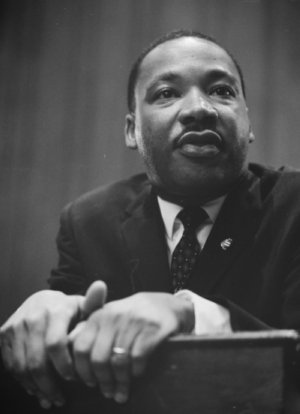 Martin Luther King's speech "I have a dream" is a 17 minute speech, and the most famously known one of King's, and one of the most significant in the history of America.
'Martin Luther King' was also known as 'MLK', and was originally named Michael King on his birth certificate.
Martin Luther King, Jr. Day was first celebrated in 1986, and the public holiday is recognised throughout the United States on the 3rd Monday in January.
Martin Luther King was awarded the Noble Peace Prize in October 1964 for his involvement in civil rights, and at the time, he was the youngest to have received the prize.
Martin Luther King has had his house bombed in 1956, was arrested for his rebellion against racial unfairness in buses, and after his assassination, there were riots among much of the United States.
Bibliography:
Martin Luther King, Jr., 2013, Wikipedia, http://en.wikipedia.org/wiki/Martin_Luther_King,_Jr.
Martin Luther King Jr., 2013, Bio.com, http://www.biography.com/people/martin-luther-king-jr-9365086
Amazon: