Imagine kale, imagine leafy vegetable.
Kale is a form of commonly eaten leafy vegetable that possibly has its origins in and around Turkey in the Middle East.
'Kale' is also known as 'borecole', 'boerenkool' and 'salad savoy', while the 'ornamental' varieties that are grown are also edible.
Kale is directly related to cabbage, broccoli and cauliflower, as it is from the species with the scientific name Brassica oleracea, and it is from the family Brassicaceae, the family of mustards and cabbage.
Kale was grown in ancient Rome and Greece and was commonly eaten up until the Middle Ages, and at various times in history it has had renewed popularity.
Kale comes in a variety of colours, including pinks, whites, purples, reds and greens, of which the latter is most commonly eaten, and the vegetable can be stored in the freezer so that it can be used at a later time.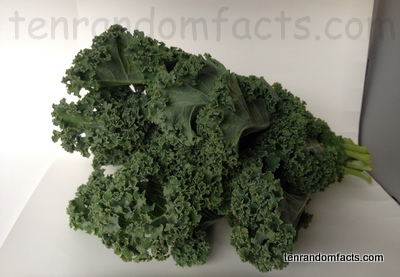 Kale is popularly used in salads, soups, or as a side vegetable, and it can be separated into smaller pieces and cooked like a potato crisp.
There are different varieties of kale, and some have fairly flat leaves, while others have very curly leaves, and they can have a somewhat bitter or earthy flavour, though it depends on the variety.
The flavour of kale can decrease if lemon juice or oil is used with the vegetable, though it can reduce the bitterness, and the vegetable develops a sweeter flavour if harvested after a frost.
Kale is extremely high in vitamin A and vitamin C; is extraordinarily high in vitamin K; and the vegetable contains antioxidants, as well as having anti-inflammatory and cancer preventing properties.
A significant amount of oxolates are found in kale, which can crystallise and can cause problems in those with kidney and gallbladder issues.
Amazon: