Little 'jewels'.  Flashy, shiny and metallic.
Jewel bugs are also known as metallic shield bugs.
Jewel bugs are from the 'Scutelleridae' family, which are true bugs that have mouths that suck, rather than beetles that have mouths that chomp.
The jewel bug's diet consists of plant juices.
When jewel bug's feed, they alter the plant by injecting an enzyme from their saliva into the plant matter, which turns the plant into a liquid state.
Jewel bugs are related to stink bugs, as they can produce a smell when they are irritated.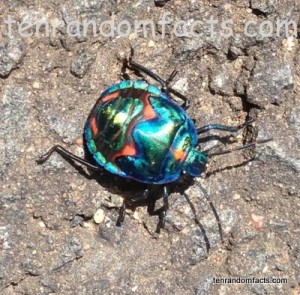 There are approximately 450 species of jewel bugs around the world.
Jewel bugs can range from 5 mm to 2 cm (0.2 to 0.79 inches) in length.
Jewel bugs come in a range of colours including metallic or iridescent blue, red, orange, black and green.
Jewel bugs lay white, cylindrical shaped eggs.
Jewel bugs moult, which is when they shed their exoskeleton to grow bigger.
 Bibliography:
Scutelleridae 26 December 2012, Wikipedia,  <http://en.wikipedia.org/wiki/Scutelleridae>