Your ear helps you hear.
Ears are located in the middle of either side of a human's head.
Ears are the only hearing organs in the human body, functioning mainly to receive sound, but also help maintain balance.
The visible portion of an ear is part of the outer ear, and is called an 'ear flap', 'auricle' or 'pinna'.
The ear flap or pinna provides protection for the internal parts of the ear, and it also collects and helps to transport sound to the inner ear.
Ears consist of three main sections – the inner ear, middle ear, and outer ear.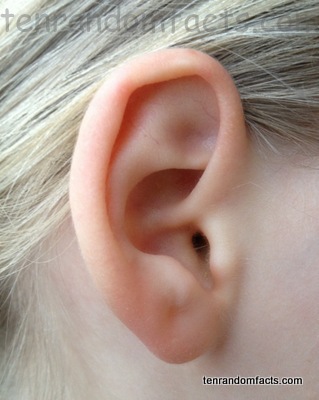 Human's hear due to sounds being channeled through the ear to the eardrum, which vibrates three small bones that cause vibrations into a fluid in the cochlea, where 20,000 nerve cells send messages to the brain.
Earaches and sometimes other pains in the ears, are caused when the tube that removes mucus and helps control pressure, the Eustachian tube, is blocked by cold.
Rough treatment of the visible ear can cause deformation, or a 'cauliflower' appearance, due to blood cutting off nutrients, killing parts of the organ.
Glands in the ear create earwax or cerumen, which is a yellow substance that helps clean and protect the organ.
Piercing the earlobe, visible at the bottom of the ear flap, is and has been a common practise in the past millenniums, although too much pressure on the earlobe can cause it to tear.
Bibliography:
Ear, 2013, Wikipedia, http://en.wikipedia.org/wiki/Ear
The Human Ear, 2013, The Physics Classroom, http://www.physicsclassroom.com/class/sound/u11l2d.cfm
Amazon: