Do you call it a weed?
Duranta is also known as Golden Dewdrop, Pigeon Berry and Skyflower.
Duranta is from the family Verbenaceae which is the verbena family and there are 17 different species.
Duranta is native to the Americas and the Caribbean.
Duranta can grow up to 6 meters (20 feet) in height depending on the species.
Mature duranta have thorns and bloom light blue, violet or white coloured flowers.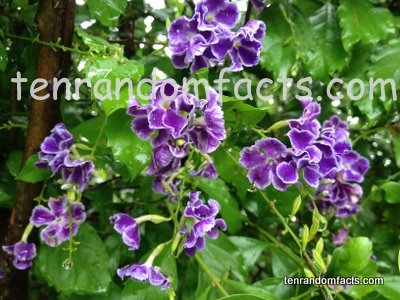 Duranta have yellow or orange coloured berry fruit.
The berries and leaves of duranta are poisonous, and have killed children, cats and dogs.
Duranta was named in honour of a 16th century Italian botanist and physician, Castor Durantes.
Butterflies and hummingbirds are attracted to duranta's brightly coloured flowers.
Duranta is known as a weed in Australia, South Africa and China.
Bibliography:
Duranta erecta 5 December 2012, Wikipedia, <http://en.wikipedia.org/wiki/Duranta_erecta>