Do not let the curry powder burn your mouth… or these facts burn your brain.
Curry powder is a preparation of spices used primarily in dishes to add flavour and a pleasant smell.
Curry powder is made primarily of spices, most often turmeric, cumin and coriander, but the mixture also often contains chilli and fenugreek, and sometimes garlic and ginger.
Curry powder typically produces both a flavour and a curry similar to foods from Asia's south and it is often spicy.
Curry powder is often used in curry sauces, but also dishes that require a distinct flavour, and the mixture can be homemade or commonly available in supermarkets or Asian grocery stores.
Curry powder most likely arrived in European society in 1771, and an advertisement for the product appeared in a British newspaper, dated 1784.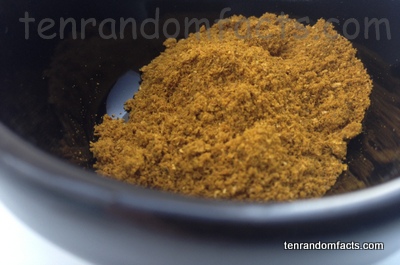 Curry powder became common in the 1800s and 1900s after the introduction of machines that can mass produce, as well as becoming a widespread and popular export.
Curry powder became increasingly popular in 1960s to 1970s with the demand and supply of Indian cuisine.
Curry powder is typically coloured yellow, orange, red, grey or brown, depending on the spice mix, and the powder particles are often very fine, but vary in size.
Commercially bought curry powder often loses its prominent taste and strength after lengthy storage times, and usually starts deteriorating from six months.
Curry powder is high in fibre, vitamin E, vitamin K, iron and manganese, and is said to help protect against inflammation and cancer.
Amazon: