Try not to kill your tongue with hot chilli peppers.
A chili pepper is a red, yellow or green coloured fruit, usually from one of five species of plants that belong to the Capsicum genus, and they are from the family Solanaceae, the family of nightshades.
'Chili peppers' are also known as 'chilli peppers', 'chile peppers', 'chillies' and 'peppers'; and they range in shape and size, and are generally between 2.5 to 15 centimetres (1 to 6 inches) in length.
Chili peppers are native to America, where the food has historically been a staple culinary item, particularly in Central America.
Chili pepper was named after black pepper, which, according to the Italian explorer, Christopher Columbus who named them, had a similar spicy flavour.
Around the 1500s, after Christopher Columbus' discovery, chili peppers became known and used in Europe; and Portuguese traders brought the food to Asia.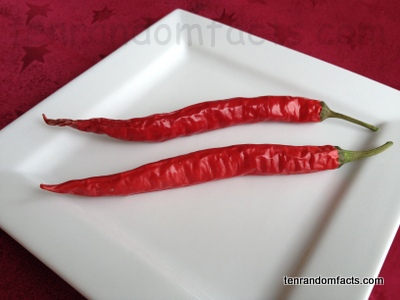 Chili peppers contain a chemical named capsaicin, which causes the hot, spicy flavour; and the capsaicin quantity is measured using Scoville heat unites (SHU); while the hottest is the Carolina reaper, with 2.2 million SHU.
Chili peppers can be eaten dried or fresh; cooked, roasted, ground or pickled, and they are popular in curries, and Mexican and Asian cuisine.
Chemicals, including capsaicin, can be derived from chili peppers to create pepper spray, which can be used to temporarily blind people, sometimes used for police control purposes.
Chili peppers can be used to combat pain from nerve disfunctions and osteoarthritis, as well as protecting healthy fats.
Chili peppers are extremely high in vitamin C, and they are high in vitamin K, vitamin A and fibre.
Amazon: