Add a tinge of flavour with some basil.
Basil is a species of leafy herb that is used primarily in cooking, and it is mostly grown as an annual.
'Basil' is also known as 'Saint Joseph's Wort' and 'sweet basil', and sometimes 'Thai basil', however this name usually refers to a variety of the herb.
Basil has the scientific name Ocimum basilicum and is from the family of mint, and there are numerous varieties of the herb, including a licorice flavoured one.
Basil plants typically have green fragrant leaves, although purple varieties are available, and they usually grow to be 30 to 130 centimetres (12 to 51 inches) in height.
Basil is said to have originated in Asia and Africa, where, in some countries, it has been grown as a crop in ancient civilisations, especially in India.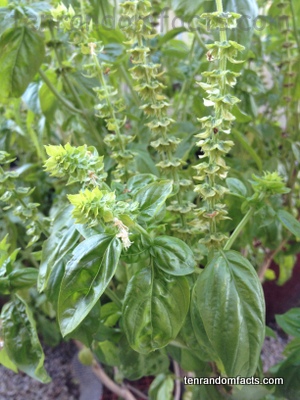 Basil leaves are generally used to flavour foods, either dried or fresh, although the latter contains much more flavour, and oil can also be extracted from the plants.
Fresh basil should only be cooked for short time periods, as longer cooking will cause the flavour to dissipate.
Basil has been used in traditional medicine, especially in India, and studies into the herb have also determined that it has significant antiviral and other beneficial medicinal properties.
The term 'basil,' has it origins in the word 'basileus', and when translated from Greek means 'king'.
Basil is extremely high in vitamin K, and is good source of manganese, and vitamin A.
Amazon: