Baby's breath are innocent little flowers, aren't they?
Baby's breath is a group of perennial and annual plants that produces flowers, and the genus contains approximately 35 species.
Areas of Australia, Asia, Africa, Europe, and the Pacific are the native locations of baby's breath.
Baby's breath has the scientific name Gypsophila and it is from the family Caryophyllaceae, the family of carnations.
'Baby's breath' is also known as 'soap root', 'chalk plant' and 'gyp', and the plants are generally grown from seed.
The scientific name of Baby's breath – 'Gypsophila' – comes from the words 'gypsos' and 'philos', meaning 'gypsum' and 'loving' respectively in Greek.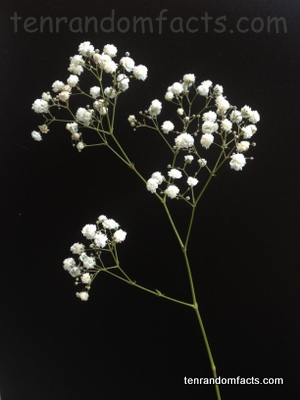 Baby's breath generally grows to heights of 15 to 90 centimetres (6 to 35.5 inches), depending on the species, and in most cases they grow best in full sun.
The five-petalled flowers of baby's breath can be white, pink, or violet and they bloom during spring and summer months.
The baby's breath plant often grown for decorative purposes has the scientific name Gypsophila paniculata, and it is commonly used as a cut flower to give a delicate look in arrangements and bouquets.
Some baby's breath species have edible roots, and the plants and roots are also grown for and used as a medical ingredient.
Although baby's breath plants are commonly grown for commercial purposes, some areas have designated some species of the plant as an invasive weed.
Amazon: