Add an abundance of flavour with apple sauce.
Apple sauce is a culinary sauce that uses apples as its primary ingredient, and it is usually a dull yellow colour that can have a slight green or red tinge, especially if the skin of the apples is used.
The words 'apple sauce' can be combined as one word 'applesauce', and the substance is also known as 'apple compôte', which is taken from the French term.
Liquids, such as water; spices, such as cinnamon; and/or flavours, such as honey or sugar, are all typical ingredients in apple sauce.
Apple sauce is commonly served with meat dishes, notably pork, as well as vegetables, and sometimes it accompanies sweet dishes, like pancakes.
Apple sauce requires the cooking of chopped apples in a liquid, and it can easily be made at home, or found in jars, tubs or tins, sold commercially in supermarkets.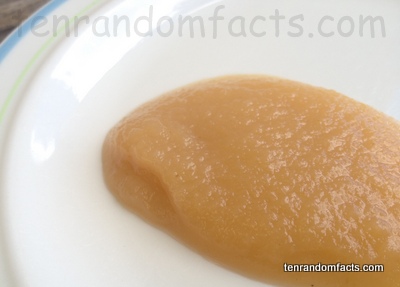 In some countries, apple sauce is served as a dessert, and it can be used as an ingredient in other foods, like cake, as a flavouring or sweetener.
Although apple sauce can be highly chunky, the sauce is often finely puréed; while the higher the apple's acidity, the finer the purée will be.
Apple sauce has been made for hundreds of years, being cooked in the medieval period in Europe, and it was an efficient process to keep uneaten or unsold apples from rotting during winter months.
Apple sauce is a popular homemade baby food, as it is relatively easy to make, and easily digestible by babies.
Apple sauce is very high in vitamin C, and it also has significant quantities of fibre, as well as pectin, that has traditionally been used to treat diarrhoea.
Amazon: