Ancient Egypt is a dazzling place with 10 dazzling facts!
Ancient Egypt was established in 3100BC and fell to the Romans in 30BC.
The Ancient Egyptians invented Hieroglyphs, a symbolic language, around 3100BC.
The Karnak temple is the largest religious structure, which is still standing inEgypt, in the world. The full structure measures 80ha/200acres/809371m2 and took 500 years to complete.
The biggest pyramid in the world is the largest pyramid of Giza. It's base measures 53,000m2.
The pyramids of Giza contain approximately 2,300,000 stone bricks.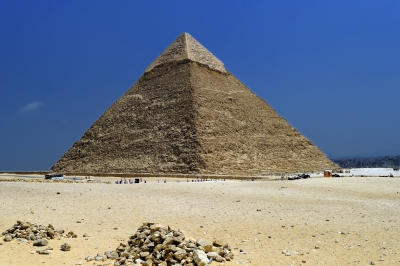 Pyramids in Egypt
Each stone brick in an Egyptian pyramid weighs about 2.5t/2500Kg.
The Rosetta stone, a slab of granite found at Rashid (Rosetta), contains the language of the Ancient Egyptians – hieroglyphs, demotic script and Ancient Greek. You can find the stone at the British Museum.
Ancient Egyptian pharaohs where known as sons of the gods, with royalty and power.
The Ancient Egyptians mastered ship building around 3000BC.
Slaves were never used to construct the Ancient Egyptian pyramids.
Bibliography:
Ancient Egypt 6 October 2012 , Wikipedia, <http://en.wikipedia.org/wiki/Ancient_Egypt>
Macdonald, F 2003, Ancient Egyptians-an ancient civilisation brought vividly to life, HarperCollins, London