Who doesn't like advent calendars…
Advent calendars are used to count down to Christmas.

Advent calendars typically have openings that may hide pictures, poems, stories and/or small gifts and food items.
The origins of the advent calendar comes from 19th century Germany, were Lutherans counted down the first 24 days of December.
Some advent calendars count down to Christmas by lighting candles and are called advent candles.
The first advent calendar was produced in 1851 and was handmade.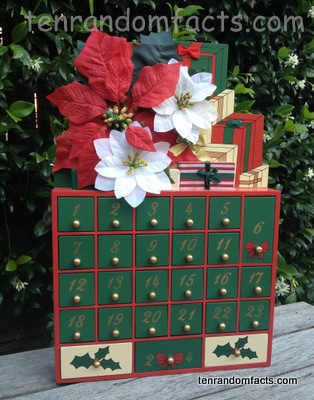 Although advent calendars normally have 24 openings, some calendars have up to 31 or 32, for New Years Day.
Although advent calendars are usually used for Christmas, sometimes advent calendars are used for other celebrations or long awaited activities.
Advent calendars have 'advent' in their name since they are used at the start of the Advent, the Christmas season.
The first printed advent calendar was printed between 1902 – 1908.
To conserve paper, the production of advent calendars ceased during World War II.
Make cheap, eggstraordinary advent calendars at Imagine. Make. Believe!
Bibliography:
Advent Calendar 12 December 2012, Wikipedia,  <https://en.wikipedia.org/wiki/Advent_calendar>
Verlag, R n.d., History of the Advent Calendar, Sellmer Verlag,  <http://www.sellmer-verlag.de/history.htm>