Fruit or vegetable?
The tomato plant originated in America.
For botanists, a tomato is classified as a fruit but many people suggest it is a vegetable.
The tomato belongs to the nightshade family, due to it's high amount of lycopene, which gives the tomato a reddish colour.
Tomato plants grow around 1-3 meters (3-10 feet) in height.
There are thousands of tomato cultivars – around 7500!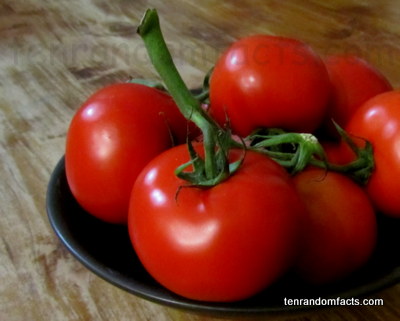 Tomatoes can be red, orange, yellow, green, pink, purple, black or white in colour.
China grows the most tomatoes in the world (41, 879, 684 tonnes in 2010).
When ripe, a tomato should be used within 1-2 days.
A tomato plant is normally vine like with yellow flowers.
The heaviest recorded tomato weighed 3.51 kg (7 lb 2 oz), in 1981.
Bibliography:
Tomato 12 November 2012, Wikipedia, <http://en.wikipedia.org/wiki/Tomato>