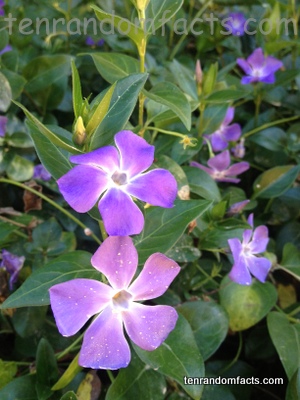 Greater periwinkles are greater than lesser periwinkles.
Greater periwinkles are also known as 'big leaf periwinkles', 'large periwinkles', 'blue periwinkles' and 'blue buttons'.
The scientific name of greater periwinkles is 'Vinca major' and is from a family of six species of Vinca.
Greater periwinkles are native to Europe and North Africa and are from the family 'Apocynaceae', which is typically known as the dogbone family.
Greater periwinkles grow up to 50-70 cm (1.6 – 2 .3 feet) in height and spread 2-5 metres (6.6 – 16.4 feet) wide.
Greater periwinkles are ground vines with dark green coloured leaves that are glossy and sit in pairs opposite each other, with flowers that can bloom all year round, but generally in spring and summer.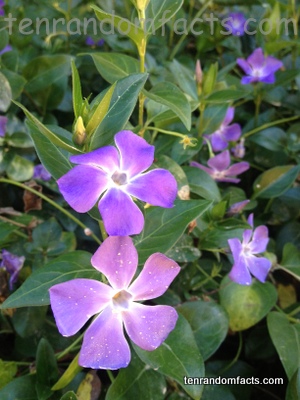 The flowers of greater periwinkles can be white or blue in colour but are typically coloured in purple shades and are 3-5 cm(1.2 – 2 inches) in diameter.
Greater periwinkles are an invasive weed in parts of Australia, New Zealand and United States, due to the ease of propagation from waste plant material.
Greater periwinkles are often mistaken for lesser periwinkles (Vinca minor) due to their similarities, although the flower and leaf sizes are larger in the greater, which also has tiny hairs on the leaves, that the lesser doesn't.
The stems of greater periwinkles can be used for basket weaving and the plant is also used medicinally, although it is poisonous if large portions are consumed.
Greater periwinkles are happy to grow in shady areas and send down roots from their runners, making them easy to grow from cuttings.
Bibliography:
Vinca Major, 2013, Plants for a Future, <http://www.pfaf.org/user/plant.aspx?latinname=Vinca+major>
Vinca Major, 2013, Wikipedia, <http://en.wikipedia.org/wiki/Vinca_major>
Amazon: