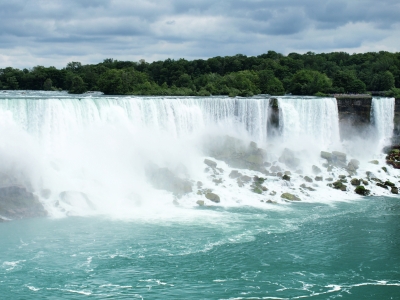 Pretty but dangerous.
The Niagara Falls is a group of three waterfalls: the Horseshoe Falls, the American Falls and the Bridal Veil Falls and sits on the border of the US state of New York, and Ontario, Canada.
The Niagara Falls are very wide and at their highest point are 51 meters (167 feet) in height.  They are most significant due to the enormous volume of water that falls over the edge, on average approximately 110,000 m3 (4 million cubic feet) per minute.
The Niagara Falls produces large amounts of  hydroelectricity power for the surrounding cities.
The Niagara Falls erodes easily, and is estimated in 50,000 years there will be no falls at all.
The name 'Niagara Falls' is from the American-Indian tribe the Mohawks.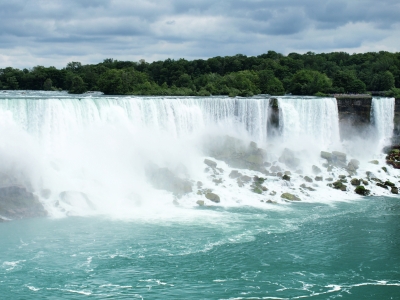 Fifteen people have intentionally gone over the falls; some jumped, some were protected by barrels; some died, some survived with injuries.
The first person to go over the Niagara Falls was a 63 year old school teacher from

Michigan

, Annie Edison Taylor, in October, 24, 1901, in a barrel.
A number of people have tight-roped over Niagara Falls, the first was Jean François 'Blondin' Gravelet.  Tight-roping and going over the falls is now banned and is illegal.
Niagara Falls as been featured in many movies, including 'Superman II'.
In 2009, it was estimated 28 million people visited the Niagara Falls that year.
Bibliography:
Niagara Falls 31 December 2012 ,

Wikipedia

, <http://en.wikipedia.org/wiki/Niagara_Falls>