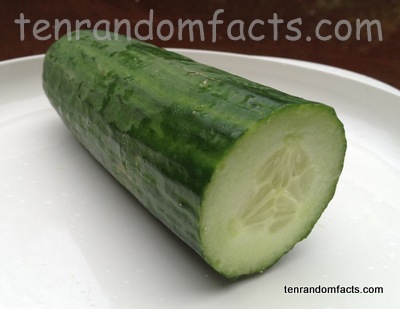 These facts are as cool as a cucumber.
Cucumbers are generally torpedo shaped edible fruit or vegetables, and a fruit bearing creeper vine from the family Cucurbitaceae, the family of gourds.
The scientific name for a cucumber is cucumis sativus, and some of the varieties are apple cucumber, continental or telegraph cucumber, lebanese cucumber and pickling cucumber.
Cucumbers are native to India although they have been grown in Egypt, Greece and Rome for thousands of years.
Bees (normally honey bees) are often transported to cucumber farms where there aren't bees, because cucumbers need them to for pollination.
China was the top producer of cucumbers in 2010 with 40,709,556 tonnes (40,066,610 tons), producing over 70% of the world's cucumbers.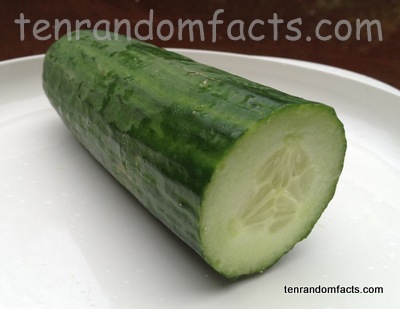 Cucumbers have edible skin and seeds, and are most often eaten raw, but are also eaten cooked, sliced and pickled.
Cucumbers are made up of 90 – 96% water, and as a result they were often brought as provisions on desert trips.
Cucumbers can be green, white or yellow in colour, depending on the variety and the age of the fruit.
Cucumbers should not be stored near fruit, especially apples, tomatoes and melons, as they will age quicker.
Cucumbers have very little nutritional value, and the flavour is mostly contained in the seeds, which become bitter the older the cucumber gets.
Bibliography:
Cucumber, 2011, Fresh for Kids, <http://www.freshforkids.com.au/veg_pages/cucumber/cucumber.html>
Cucumber, 2013, Wikipedia, <http://en.wikipedia.org/wiki/Cucumber>