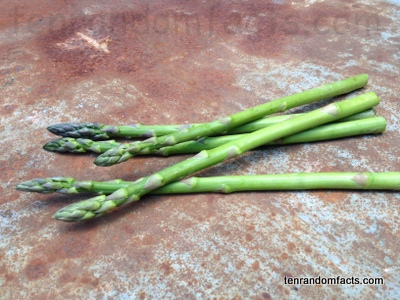 Long asparagus.
Asparagus are long, spear-headed, edible vegetables that are popular across the globe.
Asparagus can be green, white or purple in colour, and is native to west Asia, north Africa and Europe.
The scientific name of asparagus is 'asparagus officinalis', which is one of the 300 species in the asparagaceae family, although some other asparagus species are edible.
Asparagus are the young shoots of the perennial plant with the same name that grows from 1 to 1.5 metres (3 to 5 feet) in height.
Historically, asparagus was commonly eaten in Ancient Egypt, Rome, Greece, Spain and Syria.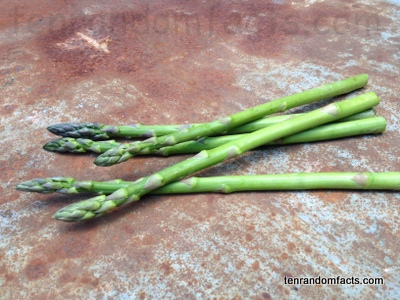 Asparagus is is 93% water and very high in vitamin K, and is high in vitamin A, thiamine, riboflavin, folate and iron.
In 2010, China was by far the biggest producer of asparagus, harvesting nearly 7 million tonnes (7.6 million tons) of the vegetable.
The word 'Asparagus' has Latin, Greek and Persian origins, originally meaning 'shoot' or 'sprout' in Persian,  and was originally termed as 'sperage' in English.
After consumption, asparagus can cause a foul smell emitted from the consumer's urine due to the organic chemicals found in the vegetable.
Asparagus is served and eaten in stirfries, soup, raw in salad, grilled, and pickled, and when raw or lightly cooked, it has a crunchy texture.
Bibliography:
Asparagus, 2013, The World's Healthiest Foods, http://www.whfoods.com/genpage.php?tname=foodspice&dbid=12
Asparagus, 2013, Wikipedia, http://en.wikipedia.org/wiki/Asparagus
Amazon: