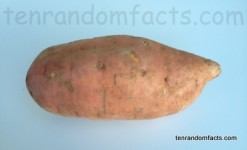 The roots literally stem to the sweet potato.
A sweet potato is a vegetable that is the root of a dicot plant with the scientific name Ipomoea batatas, and the plant is from the family Convolvulaceae, the family of morning glories or bindweeds.
Some people refer to sweet potatoes as yams, despite the term technically reserved for totally unrelated vegetables from the Dioscoreaceae family, with the scientific name Dioscorea; thus creating confusion.
There are numerous varieties of sweet potatoes, and the skin can be coloured orange, beige, brown, red, yellow, or purple, while the flesh can be yellow, beige, orange, white, pink, purple, red, or violet, and they are generally a long, fat shape.
Sweet potatoes are commonly cooked through baking, frying, grilling or boiling; and both the leaves and root can be eaten.
Sweet potatoes are native to South and Central America, and they have been used in these areas since ancient times, and were likely cultivated there thousands of years ago.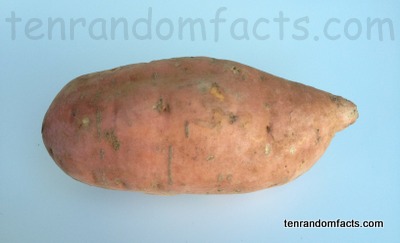 China is the largest producer of sweet potatoes in the world, producing around 81.7 million tonnes (80.4 million tons) in 2011, totalling approximately 77% of the world's production.
Sweet potatoes do not grow well in cold temperatures, preferring sunlight and the warmth it generates, and once harvested they are best stored in a dry, dark and cool environment, however, they should not be stored in the fridge.
Europe had not seen sweet potatoes until 1492, after Christopher Columbus brought back some of the vegetables from his original visit to America.
The skin of sweet potatoes may be commercially dyed or waxed, the former to increase the apparent quality and fool consumers, while the latter is used to protect the vegetable from moisture loss and to maintain its freshness.
Sweet potatoes have an extremely high content of vitamin A and are a good source of vitamins C and B6, fibre, potassium and manganese, and they contain many other vitamins and minerals.
Amazon: