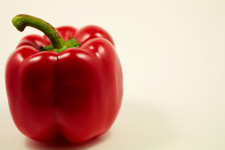 Capsicums may not by spicy but they certainly help spice up a meal.
A capsicum is a species of fruit that is popularly eaten as a vegetable, and is native to tropical areas of North and South America.
'Capsicums' are also known  as 'peppers', 'sweet peppers', and 'bell peppers'.
The scientific name of a common capsicum is Capsicum annum and it is from the family Solanaceae, the family of nightshades.
The colour of capsicums ranges greatly, though they are more commonly red, green or yellow in colour, but purple, brown, white and orange varieties are also available.
China was the largest producer of capsicums in 2007, with a total production of 14,033,000 tonnes (15,468,700 tons) out of the world total of 26,056,900 tonnes (28,722,800 tons).
Red capsicums, compared to green, orange and yellow ones, are the sweetest, especially if they are not picked until ripe, while the green coloured fruit are the least sweet and are often just unripened red fruit.
It is thought that capsicums where first cultivated around 5000 BC, and the first European to discover the fruit was Christopher Columbus, when he visited the West Indies.
Capsicums, or sweet peppers, are unusual in that they do not contain capsaicin, which gives others in the genus of the same name, including chili peppers, a hot spicy flavour.
Capsicums are extremely high in vitamin C and high in vitamin A, and depending on the variety, they may also contain significant quantities of vitamins B6 and K, and folate, and they also contain many other vitamins and minerals.
Capsicums are eaten both raw and cooked, often as a side vegetable, especially due to the vegetable's crispiness.
Amazon: