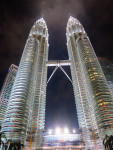 They don't get twins taller than the Petronas Towers.
The Petronas Towers are a set of two, very tall, identical skyscrapers found in Kuala Lumpur, Malaysia, with a design that resembles Islamic religious geometric patterns.
The 'Petronas Towers' are also called 'Petronas Twin Towers', and 'Menara Berkembar Petronas' and 'Menara Patronas' in Malay; and the towers were designed by architect César Pelli, an Argentine American.
At 451.9 metres (1483 feet) in height, the Petronas Towers were the tallest buildings on earth from 1996 to 2004, and as of 2015, they were still the tallest twin towers in the world.
The construction of the Petronas Towers began on 1 March 1993 after a year of planning, and the spires were added exactly three years later, in 1996, with the buildings being completed in 1998; and the towers were officially opened six years after construction, in August 1999, by Mahathir Mohamad, Malaysia's Prime Minister at the time.
Two different construction consortiums were contracted to build the Petronas Towers to meet set deadlines and therefore, budgets, with Tower 1 headed by the Hazama Corporation from Japan and Tower 2 by the Samsung C&T Corporation from South Korea.

The two construction companies building the Petronas Towers, competed against each other to complete their tower the fastest, with Tower 2 becoming the first to be completed, and as a result, the first to become the tallest tower in the world.
The Petronas Towers feature a two-story skybridge that was constructed separately, that connects the twin towers at levels 41 and 42, and it is the most elevated of its kind on earth.
It is believed that when one of the Petronas Towers reached a substantial height, it was discovered that the tower had been built slanted 2.5 centimetres (1 inch) from the vertical, meaning all subsequent floors had to be built slanted inwards to remedy this.
The Petronas Towers cost a total of roughly 1.6 billion USD to construct; and each tower has 88 floors above ground and five below, and 40 lifts per tower.
During the foundation stage of construction of the Petronas Towers, 13,200 cubic metres (466,154 cubic feet) of concrete was poured in 54 hours, without a break, and up until that time, it was the largest concrete pour of its kind in Malaysia.
Amazon: