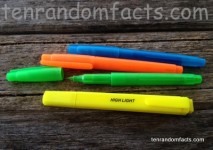 Only the highlights appear in these highlighter facts!
Highlighters are stationery items in the form of a pen, used to highlight, or mark, text.
Highlighter ink is typically brightly coloured, often fluorescent, and see-through.
Highlighters typically come in colours of yellow, blue, green, pink, orange and purple, although the most prevalent colour is yellow.
Highlighters are similar to a felt-tip pen, except they contain a different ink.
Highlighters are believed to have been invented by the United States' Carter's Ink Company in 1963, and were called a Hi-Liter, soon after Yukio Horie, from Japan, had invented the water-based marker the year prior.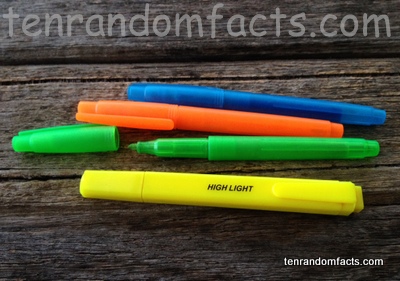 Yellow coloured highlighters are generally not visible on a photocopied document of a highlighted original.
Different colours of highlighters can be used to organise groups of ideas or texts.
Highlighters can be stacked together, waxy, retractable, three in one, take the form of a pencil, or have non-seeping ink.
A dry line highlighter is a tape that is applied to the page, and has the advantage that it can be erased without much difficulty.
Digital documents can be highlighted by selecting text, in a similar way to standard highlighting.
Bibliography:
Highlighter, 2014, Wikipedia, http://en.wikipedia.org/wiki/Highlighter
Greenbaum H & Rubinstein D, The Hand-held Highlighter, 2012, The New York Times, http://www.nytimes.com/2012/01/22/magazine/the-hand-held-highlighter.html?_r=1
Amazon: