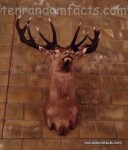 Would you ever display a hunting trophy on your wall?
Hunting trophies are objects made of hunted game specimens, typically put on display like a trophy, and they can be as simple as animal horns, tusks or teeth, or it can be the taxidermied head or body of a hunted animal.
Generally, elderly animal specimens are favoured for exhibiting as a hunting trophy, due to their impressive size, and hunting these animals will usually have little or no impact on the general population of the species.
The practice of hunting animals for the purpose of gaining a hunting trophy is known as 'trophy hunting', and most animals that are used for this purpose come from Canada or African countries.
If undertaken randomly and without control, trophy hunting can disrupt populations of animals, reproduction patterns and the genetic pool.
In the 1800s, taxidermied animals became sought after and were commonly displayed, and during this time, the hunting trophy became popular among Europeans.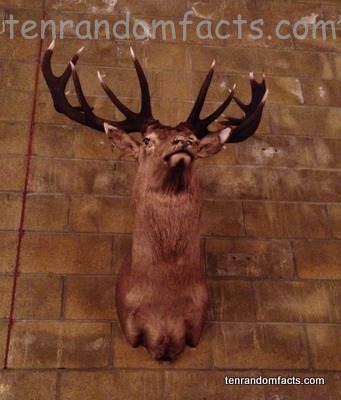 Trophy hunting is often considered to be highly beneficial for African countries, as it contributes greatly to the country's economy with little negative effect, and in 2008, across a small selection of African countries, $190 million USD was injected into the African economy as a result.

Investigations conducted suggest that the controlled hunting of some animals for hunting trophies, especially those in Africa, controls and potentially increases a species' population, due, in part, to locals of the area wanting to protect the animals so that can collect large sums of money from those wanting to do the hunting.
Hunting for the purpose of a hunting trophy is prone to being controversial, as it is commonly claimed that it is inhumane and dangerous to animal populations, however many of the major wildlife organisations have supportive or neutral views on the subject.
Hunting trophy animal heads and antlers are commonly mounted on a wall, most often in an office or one's house, often in a specially designated 'trophy' or 'game room'.
A number of places and organisations, including a number of airlines, have banned the handling or importing of hunting trophies, mainly because they don't agree with the killing of animals for sport purposes.
Amazon: