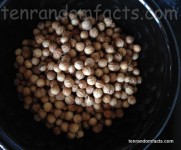 Coriander seeds are actually fruit!
Coriander seeds are used as a spice to flavour cooking, and are also known as 'dhania' and 'coriandi seeds'.
Coriander seeds are the fruit of an annual herb that grows up to 50 centimetre (20 inch) high.
Coriander seeds are believed to be native to the Mediterranean and Middle East areas.
Coriander seeds are from the family Apiaceae, the family of carrots and parsley, and come from the plant that has the scientific name of Coriandrum sativum or common names 'cilantro', 'Chinese parsley' and 'Mexican parsley'.
Coriander seeds are often used 

in curries

, as well as in the spice mix 'garam masala', and is commonly found in dishes particularly from Southeast Asia to Africa to the Middle East.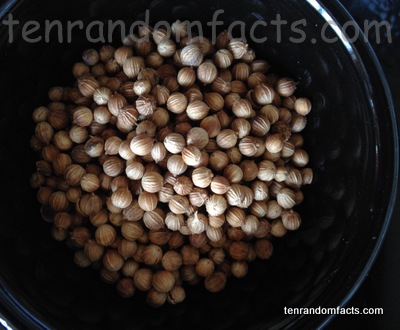 Coriander seeds are high in manganese, calcium, magnesium and iron.
Coriander seeds have the flavour of lemon citrus and nuts, and they generally help thicken the sauces that they are usually found in.
Coriander seeds are commonly used ground or whole, roasted, dried or fresh.
There are different varieties of coriander that produce different sized coriander seeds, and they range from 1.5 to 5 millimetres (0.06 to 0.2 inches) in diameter.
Coriander seeds have been used traditionally for medicinal purposes to treat a wide variety of ailments and they are said to have anti-diabetic properties.
Bibliography:
Coriander, 2006, OzPolitic, http://www.ozpolitic.com/gardening/coriander.html
Coriander, 2014, Wikipedia, http://en.wikipedia.org/wiki/Coriander
Amazon: