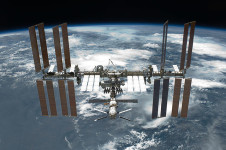 Can you imagine living on the International Space Station for half a year?
The International Space Station, also known as the 'ISS', is a space station that takes approximately 90 minutes to orbit the Earth; has been used or visited by individuals from 15 nations; and is continuously manned by astronauts.
The primary use of the International Space Station is for scientific research and tests, mainly for spatial, biological, astronomical, gravitational, physical and meteorological purposes.
In 2015, the International Space Station was only able to be accessed through the Russian rocket Soyuz, although American rockets had also been used up until 2011.
The International Space Station is roughly 72.8 metres (239 feet) in length and 108.5 metres (356 feet) in width, with an approximate height of 20 metres (66 feet).
In 1998, the first part of the International Space Station was placed in space, and in excess of 40 missions over the years, have enabled different modules to be added to the structure, though the station may retire between 2020 and 2024.

The International Space Station is powered through solar electricity, although there is a rough 35 minute lapse that occurs when the sun is hidden from view, thus causing the station to depend on rechargeable nickel-hydrogen batteries during this period.
Typically, up to six people are sent to the International Space Station on a single expedition, although it has the capacity to house seven, and they generally live at the station for half a year at a time.
Days at the International Space Station generally begin at 6 am and end at 9.30 pm, and the astronauts, who encounter 16 sunsets and sunrises per earth day, are required to exercise to prevent body dysfunction, and to particularly keep bones and muscles in good condition.
The cost of building the International Space Station was around US$100 billion, and the ongoing expenses associated with the station are generally covered by the participating countries.
The International Space Station appears as a white dot in the sky when viewed from the Earth, and is detectable due to sunlight reflecting from the station.
Amazon: