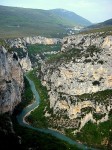 Do not tumble down the walls at Verdon Gorge.
Verdon Gorge is a canyon with a river running through it, that is located in Europe's France, in the south-east of the country.
Verdon Gorge is approximately 25 kilometres (15.5 miles) in length and, at its deepest depth, 0.7 kilometres (0.4 miles).
Verdon Gorge has stunning, turquoise coloured water, and some say this is due to tiny particles of rock  (most likely limestone), known as 'rock flour' or 'glacial flour', in the water, and others say it is because the water contains microscopic algae.
Verdon Gorge is a popular tourist destination, with more than a million visitors a year, and it is especially popular for rock climbing, as there are approximately 1500 courses to choose from, while other sports enjoyed include 

rafting,

 hiking, canoeing, fishing and paragliding.
'Verdon Gorge' is also known in French as 'Gorges du Verdon' and 'Grand Canyon du Verdon', and it is named so, due to the colour of the water of 

the Verdon River, 

that flows through the gorge.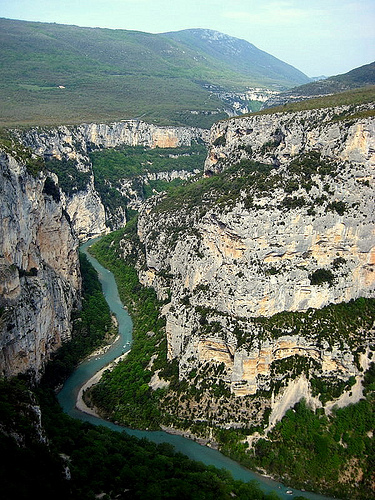 Out of all the gorges and canyons in Europe, the Verdon Gorge is the largest, and it is part of the Regional Natural Park of Verdon (Parc Naturel Regional du Verdon).
Verdon Gorge was formed from erosion caused by the Verdon River, and the gorge ends with a man-made lake called 'lac de Sainte-Croix' (Lake of Sainte-Croix).
Verdon Gorge runs through five different hydro-electric dams, constructed during the years of 1929 and 1975.
Verdon Gorge was the subject of an expedition in 1905, by Frenchman Édouard-Alfred Martel, a speleologist, a scientist that study caves, who completed a geological survey of the area.
Much of Verdon Gorge is made of limestone, with the highest, vertical wall reaching 300 metres (1000 feet).
Amazon: