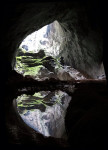 How could a rock hold such a large cave as the Son Doong Cave?
Son Doong Cave is a rock cave found in Central Vietnam, in Southeast Asia, close to the border of Laos.
'Son Doong Cave' is also known as 'Hang Son Doong', which is Vietnamese for 'mountain river cave'.
The Son Doong Cave entrance was discovered in the early 1990s by a local Vietnamese named Ho Khanh, however the cave remained untouched and hidden for many more years, due to its relatively inaccessible location.
Son Doong Cave is the home of the large Rao Thuong River, that flows quite quickly underground, notably making rushing and roaring sounds audible outside the cave.
The entrance to Son Doong Cave was rediscovered in 2008, again by Ho Khanh, and it wasn't until 2009 that it was first explored, with Ho Khanh's assistance and a team of cave experts and scientists, as steep inclines and intimidating sounds caused by the hidden river, would've deterred locals.

As of 2015, Son Doong Cave was still listed as the largest known cave on Earth, at 200 metres (660 feet) in height, 5 kilometres (3.1 miles) in length and 150 metres (490 feet) in width, at the greatest points.
Limestone is the main stone type that makes up Son Doong Cave and it also has some large deposits of calcite.
Particularly large cave pearls and stalagmites can be found in Son Doong Cave, with the cave pearls reaching sizes of around 7.5 cm (3 inches) in diameter and stalagmites reaching up to 80 metres (262 feet) in height.
The first tourists to explore Son Doong Cave did so in late 2013, spending $3,000 USD per person, while only 500 permits to enter the cave were given out in 2015.
Son Doong Cave is located in a section of the Phong Nha-Kẻ Bàng National Park, which was declared a UNESCO World Heritage Site in 2003.
Amazon: