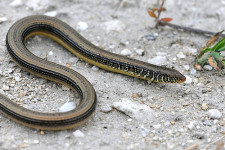 Glass lizards are not too fragile, although they may fragment!
Glass lizards are a group of approximately 15 species of animal, that have the appearance of snake-like reptilians, but are lizards.
'Glass lizards' are also known as 'glass snakes' and 'jointed snakes'.
Glass lizards have the scientific name Ophisaurus and are from the family Anguidae, a family of numerous Northern Hemisphere lizards.
Glass lizards grow to be 0.6 to 1.2 metres (2 to 4 feet) in length, which includes the long tail, and they have a weight of 300 to 600 grams (11 to 21 ounces).
The diet of glass lizards mainly consist of small rodents and reptiles, insects, and spiders.

Glass lizards have a head that is similar to the anatomy of lizards and they generally have no legs, although small stumps can sometimes be seen in place, in some species.
Glass lizards can be found primarily in some Asian countries like India, Indonesia and China, as well as North Africa and the United State's southeast.
Glass lizards can fracture their tails into small, moving pieces, hence their name, and the tail can be regenerated after some time, although it will generally be shorter than the first.
Glass lizards come in a variety of colours including green, black, grey, brown, yellow and tan, depending on the species.
Glass lizards are typically preyed on by large mammals, birds and snakes, and they have a lifespan of ten to thirty years.
Amazon: