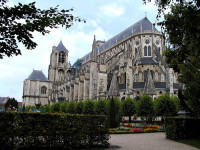 The architecture of Bourges Cathedral is quite amazing!
Bourges Cathedral is a cathedral found in France's Bourges, in Europe, that is used and was built by Roman Catholics.
'Bourges Cathedral' is also known as 'Cathédrale Saint-Étienne de Bourges' in French.
The construction of Bourges Cathedral began around 1195, although other churches had already inhabited the site from the 200s.
Bourges Cathedral was likely used from 1214 onwards, as significant parts had been built, and the main part was completed by 1230, however the building was not consecrated until 1324, as construction continued until the late 1400s.
Bourges Cathedral has been largely preserved throughout conflicts such as the World Wars and the French Revolution, although nearby related buildings were destroyed.

The nave, the central meeting area, of Bourges Cathedral reaches a height of 37 metres, and the cathedral covers an area of 5,900 square metres (63,500 feet), while it sits on an area of 8,500 square metres (91,500 square feet).
Bourges Cathedral has numerous features such as stained-glass windows, carvings, and a crypt, and is a great example of Gothic architecture, and as such was declared a Historical Monument in 1837, and a UNESCO World Heritage Site in 1992.
Bourges Cathedral is the base for the Archbishop of Bourges, who, from 2007, was Armand Maillard, while Henri de Sully, who died in 1200, was the archbishop who ordered the original construction of the cathedral.
Tourists may visit Bourges Cathedral on most days, except for Sunday morning when the cathedral holds services.
In 1506, soon after its completion, the northern tower of the Bourges Cathedral collapsed and had to be rebuilt, which was funded by donations and other means.
Amazon: