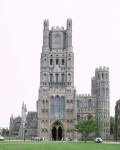 Ely Cathedral is another inspiring work of art.
Ely Cathedral is a large Romanesque stone church, that is part of the Anglican Diocese of Ely and the home to its bishop, located in England's Cambridgeshire, in Europe.
'Ely Cathedral' is also known as the 'Cathedral Church of the Holy and Undivided Trinity of Ely' and 'the Ship of the Fens'.
The highest point of Ely Cathedral is the west tower measuring 66 metres (216.5 feet) and the building spreads over a distance of nearly 164 metres (538 feet) and covers an area of 4273 square metres (46,000 square feet).
Ely Cathedral is situated on the spot, that, in 673 AD, a monastery for both genders was established, by the saint, and Queen, Etheldreda, whose shrine existed at the site for many centuries.
The original monastery at the location of Ely Cathedral was thought to be destroyed in the 9th century, by Vikings, while a revival in the area caused the re-establishment and rebuilding of the abbey from 970.

Normans, who seized control of the monastery at the site of the Ely Cathedral in the 11th century, ordered the rebuilding of most monasteries, including Ely, and a number of additions were made to the cathedral over the centuries, and restoration works have been undertaken at various times.
The construction of Ely Cathedral commenced during the 1080s by Abbot Simeon, although it was halted for a number of years after his death in 1093; and the first bishop was appointed in 1109.
In 1322, the central tower of Ely Cathedral collapsed, and was reconstructed as an octagonal tower; while some time later, another part of the building gave way and was never repaired.
The Ely Cathedral has numerous panels of stained glass artwork, mainly originating in the 1800s, and the building originally housed numerous sculptures, which were mostly destroyed along with other objects, in the reformation in the 1500s.
Two main towers exist in the Ely Cathedral, the west tower comprising of almost 290 steps; and the site also has a number of chapels, a cafe, restaurant, shop, and a stained glass museum.
Amazon: