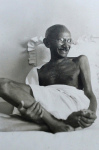 "Where there is love there is life." – Mahatma Gandhi
Mahatma Gandhi was an Indian political activist, a firm believer of nonviolent resistance, and the primary influence of India's independence and freedom from Britain in 1947.
The full name of Mahatma Gandhi is Mohandas Karamchand Gandhi, born on the 2 October, 1869, in India's Porbandar, in Asia, and he has also been known as 'Bapu', 'Gandhiji', 'Father of the Nation', and 'Father of India', and the title 'Mahatma', meaning 'great soul' or similar, was first used in relation to him in 1914.
Abiding by Indian tradition, Mahatma Gandhi married the similarly aged Kasturbai Makhanji at age thirteen years, in 1883 by an arranged marriage, and had five children, although only four boys survived, with the first child dying days after birth.
Mahatma Gandhi studied law in London, in Europe's England in 1888, returning to India in 1891 after graduation, but then moved to South Africa to work for an Indian trader group in 1893 as a legal representative, where he remained until moving back to India in 1915.
While in South Africa, Mahatma Gandhi observed and experienced violent racism, and as a result rallied for the rights of Indians in the country, and when he returned home to India after more than 20 years, he began to campaign for his country's independence.

Mahatma Gandhi was assassinated by bullet at 78 years of age, on 30 January, 1948, by Nathuram Godse, a representative of a disagreeing Hindu fundamentalist group, in the area of Birla House, New Delhi in India, which was later renamed Gandhi Smriti and was transformed into a museum.
While he studied many different religions, Mahatma Gandhi was mostly influenced by Hinduism and Jainism, and during his lifetime he wrote over 50,000 pages of literature, some of which was previously released, although the whole lot was published collectively by the government in India in the 1960s.
Despite being nominated five times, Mahatma Gandhi was not awarded the Nobel Peace Prize during his lifetime, although the story of his life was adapted into the Academy Award winning film Gandhi (1982), starring Ben Kingsley as the main character.
Since 2007, the 2nd October has been celebrated each year as the International Day of Non-Violence, in honour of Mahatma Gandhi, which is the Indian's birthday, and also a public holiday in India, known as 'Gandhi Jayanti'.
Mahatma Gandhi was the subject of at least five failed assassinations, one of which is said to have been the derailing of a train a year and a half before his death.
Amazon: