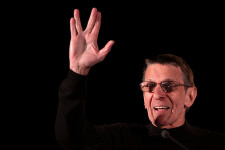 "Live long and prosper" – Leonard Nimoy as Spock
American Leonard Nimoy, was an actor who was most well known for his acting in the Star Trek film and television series, as Spock, while the role received many award nominations.
Leonard Nimoy's full name was 'Leonard Simon Nimoy', and he was born in 1931 on 26th March to Jewish parents in Boston, in the United State's state of Massachusetts.
Leonard Nimoy started acting in 1939 as a young boy, performing in plays and high school productions, and later started his acting career in the early 1950s, appearing in Kid Monk Baroni (1952).
Leonard Nimoy was casted as Star Trek's Vulcan (extraterrestrial humanoid species) Spock, and played this role in various Star Trek films and television series over many years between 1966 to 2009; while his performance as Spock is said to have affected Nimoy's personality and thoughts.
Leonard Nimoy did extra studies in drama in 1959; had prominent skills in singing, poetry, and writing; was an accomplished photographer; and directed two box office hits, Star Trek IV (1986) and Three Men and a Baby (1987), among other films.

The symbolic Vulcan salute was created by Leonard Nimoy, performed using a single hand, and it was based on a sign given by priests during a Jewish blessing.
Leonard Nimoy performed in numerous films and television shows outside of Star Trek, and though he technically retired in early 2010, he later acted in 2011 and provided voice performances during his remaining years.
Leonard Nimoy was fluent is the Jewish language Yiddish, and showed much support for his fellow Jews.
Leonard Nimoy was married twice; once from 1954 to 1987, to Sandra Zober, and later, in 1989 until his death, to Susan Bay, both actresses.
Leonard Nimoy died at age 83, on 27th February, 2015, due to complications of the lung disease 'COPD' (chronic obstructive pulmonary disease), at his residential home in Bel Air, in Los Angeles, California, United States.
Amazon: