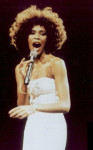 "Loneliness comes with life" – Whitney Houston
Whitney Houston was a very successful pop and gospel singer, actress, and model, and through her achievements, she became one of the primary contributors in opening up music industry opportunities to 'black' women.
On the 9 August, 1963, in New Jersey's Newark, in the United States, Whitney Houston was born to African American parents, and was named Whitney Elizabeth Houston.
Whitney Houston is listed among the top-selling music artists in history, with 170 to 200 million records sold worldwide, and was recognised as the most awarded female artist by the Guinness World Records in 2009, and in her lifetime is said to have won up to 600 or more awards, including two Emmy Awards, six Grammys and 30 Billboards, and has continued to accumulate awards since her death.
Each of the ten albums, including six studio produced albums, recorded by Whitney Houston, has received a high level of recognition, some reaching the honours of diamond.
In her life, Whitney Houston had the honour of featuring the most number one singles on the Billboard in a row, with seven, while her 1985 self-titled debut album was the biggest selling debut album ever (at the time) for a female.

Whitney Houston's first performances were in her local Baptist church choir, while as a young teenager she sometimes accompanied her mother, famous gospel singer Emily 'Cissy' Houston, who sung at local night clubs, and in 1977 and 1978 she was backup singing.
During Whitney Houston's later teenage years she was a successful model, and later signed to music company Arista Records, in 1983, after rejecting numerous offers due to school commitments.
Whitney Houston became addicted to drugs in the 1990s, which became noticeable in her appearance and performances, and negatively affected her career; and she died on 11 February, 2012, in a hotel bathroom in California's Beverly Hills, in the US, most likely due to accidental drowning, possibly from excessive drug use.
Whitney Houston was married to singer and rapper Robert Barisford "Bobby" Brown from 1992 to 2007, and had a daughter named Bobbi Kristina Brown in 1993.
Whitney Houston had a significant acting career, featuring in several films including a leading role in her first film The Bodyguard in 1992, and The Preacher's Wife in 1996.
Amazon:  
Whitney Houston