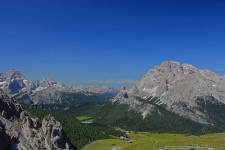 Take in a deep breath of mountain air at the Dolomites.
The Dolomites is a mountainous region located in Italy's northeast, in Europe, and it is part of the Southern Limestone Alps.
The 'Dolomites', or 'Dolomiti' in Italian, are also known as the 'Dolomite Mountains' and 'Pale Mountains', the latter translated from the Italian term 'Monti Pallidi'.
The Dolomites cover an area totaling 1,419 square kilometres (548 square miles) and includes nine mountain ranges.
At least 18 peaks of the Dolomites, have an elevation greater than 3,000 metres (9,843 feet).
The Dolomites are often noted for their picturesque scenery, from their rocky wall faces, glacial peaks and lush forests and plains.

The Dolomites were named a UNESCO World Heritage Site in 2009, and the mountain region features numerous nature reserves.
At an elevation of 3,343 metres (10,968 feet), Punta Penia, of the Marmolada range, is the tallest peak of the Dolomites.
The light grey rocks of the Dolomites are mostly sedimentary rock, such as limestone, as well as dolomite, which the mountains are named after, and the area is renowned for its quantity and quality of fossil reef specimens.
Various sporting activities can be undertaken in the Dolomites' region, including mountain climbing, skiing, cycling, paragliding and hiking.
The Dolomites area was a battlefield during the course of World War I, with fighting going on between Austro-Hungary and Italy; and evidence of the war can still be seen in the region.
Amazon: