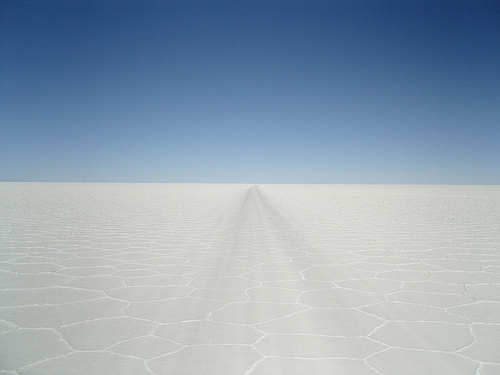 Salt, salt and more salt at Salar de Uyuni.
Salar de Uyuni is also known as Salar de Tunupa which can be translated from Spanish as 'salt flat enclosure'.
Salar de Uyuni is the world's biggest salt flat with a measurement of 10,582 km squared (4,086 miles squared), which can be found in Bolivia, South America.
Salar de Uyuni has a salt crust that ranges between a few centimetres up to 10 metres (32 feet) thick, that covers the area of a salt water lake that ranges from 2 to 20 meters (7-66 feet) in depth.
Salar de Uyuni contains a large amount of chemical metals including sodium, magnesium, potassium, and 50 to 70% of the world's lithium resource that is extracted to make batteries.
Salar de Uyuni has little wildlife, but has 80 species of visiting and migrating birds, including three species of flamingos, as well as a few islands, where the main foliage is cacti, as well as hot springs and geysers.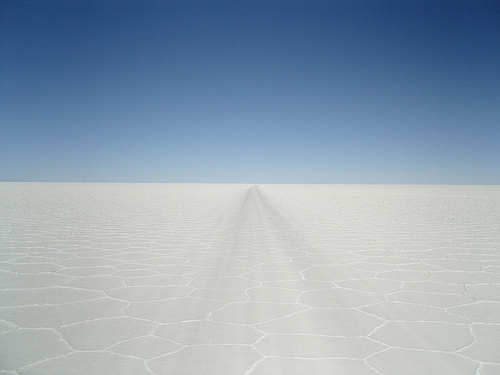 Whilst some salt is extracted from Salar de Uyuni, it is estimated that the flat contains 10 billion tonnes (11 billion tons) of salt.
Salar de Uyuni has a train cemetery, where trains were used in mining industries until 1940, and this has become one of the most popular attractions on the salt flat.
Salar de Uyuni was originally believed to be completely flat, and can make photographs look distorted, but GPSs have shown it has some tiny undulations in the surface.
Salar de Uyuni is sometimes covered in clear water, making the salt flat also the largest natural mirror.
NASA uses Salar de Uyuni, since it is unmoving and easily spottable, to figure the positioning of NASA's satellite.
Bibliography:
Salar de Uyuni, 2013, Wikipedia, <http://en.wikipedia.org/wiki/Salar_de_Uyuni>
Salar de Uyuni Facts, 2011, Travel Unearthed, <http://www.travelunearthed.com/salar-de-uyuni-facts>
Amazon: