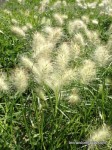 Tickle, tickle. Feathertop grass can tickle.
Feathertop grass is perennial grass native to northern Africa and part of the Middle East.
Feathertop grass has the scientific name of Pennisetum villosum.
Feathertop grass is from the family Poaceae, the family of true grasses, and the family is also referred to as the Gramineae family.
'Feathertop grass' is also known as 'feathertop', 'long-style feather grass', 'white foxtail' and 'purple squirrel tail grass'.
Feathertop grass grows to be 15 to 70 centimetres (6 to 27.5 inches) tall, and has thin green leaves.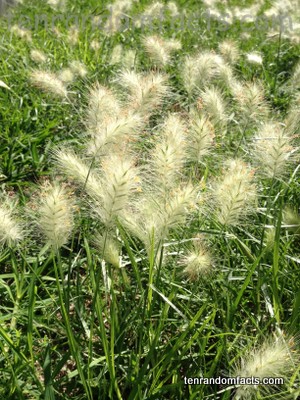 Feathertop grasses have soft looking feathery flower spikes that are white to green coloured, and sometimes have a touch of purple, that turn a creamy yellow or white colour when they age.
Feathertop grasses are classified as weeds in some countries and states, including states of Australia, and can often be seen growing en masse in fields or paddocks, along the roadside and in other areas.
Feathertop grasses bloom mainly in summer, although the flower spikes can also be seen in spring and autumn.
Feathertop grasses grow from rhizomes and spread via underground root systems, cuttings, and seed dispersal through water and waste systems and wind, among others.
Feathertop grass is grown as a decorative plant in non-invasive areas, and prefer sunny conditions and warm climates.
Bibliography:
Feathertop, 2011 Weeds of Australia, http://keyserver.lucidcentral.org/weeds/data/03030800-0b07-490a-8d04-0605030c0f01/media/Html/Pennisetum_villosum.htm
Pennisetum villosum, 2013, Wikipedia, http://en.wikipedia.org/wiki/Pennisetum_villosum
Amazon: