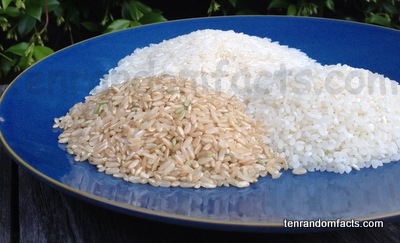 Rice, is one of the many grains we eat. Rice comes from pure paddies like these pure ten facts.
There are more than 113, 000 known varieties of rice in the world.
Mature rice paddy plants can be 1-6 meters in height.
Rice is eaten daily by approximately half the world.
In 2010, rice was the second most popular world-wide product grown.
Rice is grown in approximately 100 countries.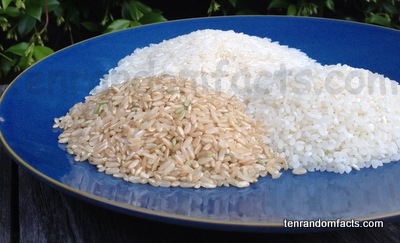 Fifty kilograms of rice seeds will grow 2,000 kilograms of rice paddy while 400 million tons of paddy makes 260 tons of milled rice.
Insects, rats, viruses, heat, large downpours, birds, snails and wild buffaloes can destroy rice paddies.
The rice grains turn a golden yellow when it is time for harvest.
By 2009, the whole world was consuming 531, 639 thousand metric tons of paddy, which is equal to 354, 603 thousand metric tons of milled rice.
 One average person in Bangladesh eats about half a kilogram of rice daily.
Bibliography:
Hawkey, R 1980, Rice, Wayland Publishers Limited, England
Rice 13 October 2012, Wikipedia, <http://en.wikipedia.org/wiki/Rice>