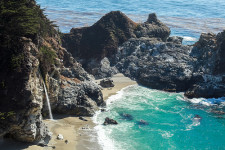 A simple snap will not capture the full beauty of McWay Falls.
McWay Falls is a scenic waterfall located in the Julia Pfeiffer Burns State Park, in the state of California's Big Sur coastal region, in the United States.
Unless the tide is in, the water of McWay Falls drops directly onto a beach cove, that sits at the edge of the North Pacific Ocean.
The height of McWay Falls reaches 24.4 metres (80 feet), while a 1 kilometre (o.6 mile) long walking track enables visitors to reach the top of the falls.
Near McWay Falls are the ruins of a cottage built by Lathrop Brown and his wife around the 1920s, then owners of the land, and it was demolished in 1965.
Fauna such as gulls and other birds populate the land around McWay Falls; while seals, sea lions, whales and sea otters are sometimes found in the surrounding ocean.

The McWay Falls site was first officially owned by Christopher McWay in the 1870s, whom the falls are named after, and the land was originally used as a ranch.
The cove that McWay Falls drops into is relatively inaccessible on foot, due to the hazardous steep rock descent that would be required, and access down the cliff is prohibited.
In 1983, a large landslide slid into the ocean below McWay Falls to form a beach, and consequently it caused the waterfall to no longer fall directly into the ocean.
The land of McWay Falls was donated to the government in 1961 by the Brown family, and the site was designated a park reserve.
McWay Falls is active through all seasons and is a popular site for photographers, particularly due to its picturesque sunset.
Amazon: