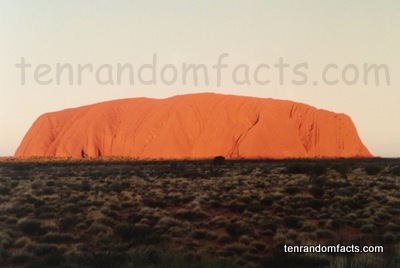 One hot rock formation, more fascinating than these facts!
Uluru is a famous, mostly sandstone rock in Northern Territory, Central Australia.
The traditional owners of Uluru are the Pitjantjatjara and the Anangu Anangu.
Uluru is also known as Ayers Rock, named after Sir Henry Ayers.
There has been approximately 150 bird, 46 mammal, 73 reptile and 400 plant and flora species sited at or near Uluru.
It is possible to climb Uluru but it is requested that you refrain from doing so by the indigenous Australians due to spiritual and safety reasons.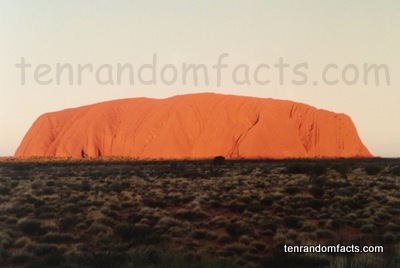 Uluru is a world heritage site and as a result, attracts more than 400,000 visitors a year.
Uluru is 348 meters high (1142 feet) and is 863 meters (2831 feet) above sea level.
The average rainfall at Uluru is 284.6 ml (11.2 inches) yearly.
The average temperature at Uluru is 37.8°C (100°F).
 35 deaths have occurred from climbing Uluru, and many injuries sustained due to harsh landscape and climates.
Bibliography:
Uluru 31 October 2012, Wikipedia, <http://en.wikipedia.org/wiki/Uluru>
Amazon: