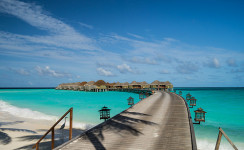 Diving around the coral reefs of the Maldives is well worth it!
The Maldives is a tropical Asian archipelago consisting of 26 atolls, broken into 1,192 individual coral islands, found in the Indian Ocean, southwest of India.
The 'Republic of Maldives' is the official name of the 'Maldives', which is likely derived from the Malayalam or Tamil words for 'garland island' – 'maala' and 'dweepu', or 'maalai' and 'theevu' respectively.
From the top to the bottom most islands, the Maldives stretch 820 kilometres (510 miles), and the territory extends over an area of approximately 90,000 square kilometres (34,750 square miles); while the land area of the islands covers around 298 square kilometres (115 square miles).
Of all the Maldives islands, only 200 of the islands are populated, with the total number of people living on the islands to be approximately 393,000 (as of 2015), while 80 more of the islands are used as resorts for the large number of tourists that visit each year.
The settlers of the Maldives is often disputed, but are thought to have been from Sri Lanka, India or other parts of Asia.

The Maldives were once ruled by kings, who encouraged Buddhism, and during the Islamic conversion of 1153, they were remodelled as sultans; and since the country became a republic in 1968, the ruler has been a president.
The capital of the Maldives is the island of Malé, and the island's city has a very dense population.
If sea levels continue rising, the Maldives risk being completely submerged by 2100, due to the country being the lowest on earth, with only a small portion of land being higher than 1 metre (3.3 feet) above sea level.
The Maldives area features over 1000 individual fish species, and at least 328 species of crustaceans, 400 molluscs and 187 coral species, that populate its stunning coral reefs.
The Maldives' coral reefs and crystal clear waters have rendered the site quite popular among tourists since 1972, when the first resort was opened.
Amazon: