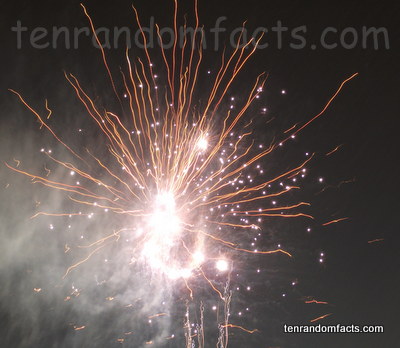 Ooh Pretty! Don't you just love fireworks!?
Fireworks are explosive, chemical reacted projectiles that are typically shot in the air and are typically used for colourful entertainment and are sometimes used at religious occasions.
Fireworks date back to the tenth century China.
The largest firework display was for the 50th anniversary of Kuwait's constitution in November 2012, and displayed 77,282 projectiles.
There are three classes of firework explosions: class A are highly explosive; class B are low explosive and not publicly sold; and class C are low explosive and are publicly sold.
The colour of a firework depends on the metal used. For example, a blue coloured firework contains copper metal.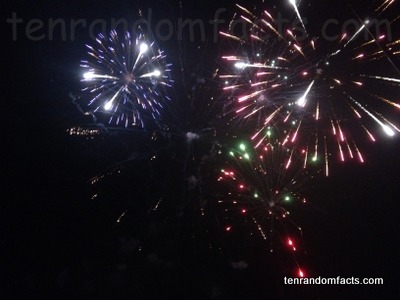 Some agriculture farmers use fireworks to scare off bird pests.
In most countries, people under the age of 18 are not permitted to buy or set off fireworks.
Fireworks make noises that sound like bangs (reports), crackles, hums or whistles, depending on the type of firework.
Fireworks project shells which explode in mid air or on the ground and can cause fires due to unextinguished flames.
Fireworks come in a variety of effects, numbering in the twenties, which include the 'Chrysanthemum', 'Spider', and 'Cake'.
Bibliography:
Fireworks 26 November 2012, Wikipedia, <http://en.wikipedia.org/wiki/Fireworks>