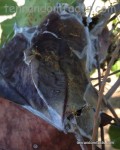 Weaver ants boast a skill that no one could ever teach.
Weaver ants are an ant species native to the tropical habitats of Australia, southeast Asia and India, and they are also known as 'orange gasters', 'red ants', 'green tree ants', 'kerengga', and 'green ants'.
The scientific name of a weaver ant is Oecophylla smaragdina and it is from the family Formicidae, the family of ants.
Weaver ants are notable for constructing nests using a number of leaves, which are held together with silk, that they carefully squeeze out of their larvae.
Weaver ants are typically an orange or red colour, though sometimes they will have green abdomens, while the queen is often a combination of brown and green.
Weaver ants span gaps and bend leaves into usable positions by grabbing onto leaves with their legs and mandibles, and linking with one another in chains.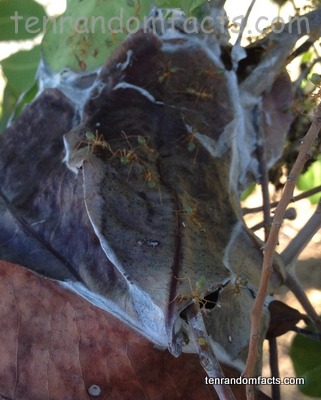 The diet of weaver ants consists primarily of insects and honeydew collected from scale bugs, and the ants live in trees.
Worker weaver ants range from 5 to 10 millimetres (0.2 to 0.4 of an inch) in length, and their size is relative to their role in the colony, while the queen ant reaches up to 25 millimetres (1 inch) in length.
Weaver ants have a natural territorial attitude towards other creatures, so farmers have used them to reduce pest numbers among crops.
A bite of a weaver ant is generally quite painful, as the ant commonly injects the bite with formic acid that it produces.
Communities in parts of southeast Asia collect the pupae and larvae of weaver ants for a variety of purposes, including food, traditional medicine ingredients, or as bait for fishing.
Amazon: