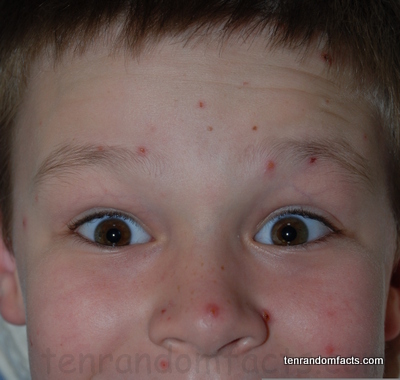 One disease and ten facts.
Chicken pox is a highly contagious disease on the body, infected by the virus named Varicella Zoster Virus (the VZV).
The main symptom of chicken pox is a spotty, itchy, blistery rash.
The chicken pox virus spreads through air by coughing and sneezing and can spread by direct contact with a pox.
Chicken pox blisters become scabs and fall off in approximately six days.
The mammal group called primates are able to catch chicken pox. This group includes chimpanzees and gorillas.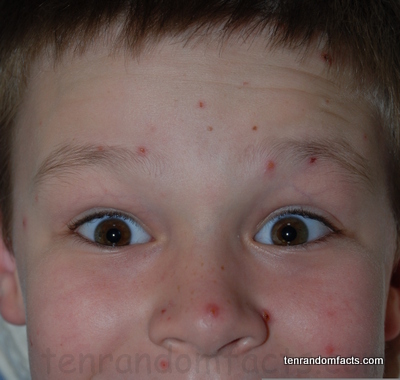 Chicken pox symptoms in an adult can include headaches, aching muscles, loss of appetite, rashes and/or a fever.
The chicken pox scabs can appear all over the body, including on the face, nostrils, mouth, lips, eyelids, ears, palms of your hands, soles of your feet and in your throat.
Adults, especially males, normally have more severe chicken pox.
Having chicken pox as a child may trigger shingles as an adult.
A vaccine was developed by Michiaki Takahashi in 1974 and has been available in the United States since 1995.
Bibliography:
Chickenpox 23 October 2012, Wikipedia, <http://en.wikipedia.org/wiki/Chickenpox>
Amazon: