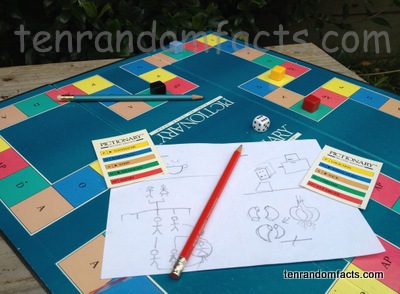 Now draw… Pictionary!!
Pictionary is a drawing game that involves guessing a word or phrase while a representation of the word is quickly drawn.
Pictionary was invented by Robert Angel, a waiter at the time, and designed by Gary Everson.
Prior to Pictionary being published, Robert Angel would randomly choose a word from the dictionary and draw the word for party goers to guess.
A dice is used in Pictionary to determine what square your team lands on, and the word your team has to draw and guess.  Generally the game is played with two people in each team.
Robert Angel originally self published Pictionary under the banner of Angel Games Inc., in 1985.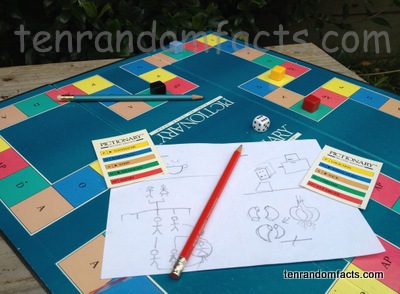 Pictionary words are typically sorted into five different categories, with five words, one in each category, on each card.  The categories are person, place, animal; object; action, difficult, and all play.
In Pictionary, a one minute timer of sand is generally used during the drawing and guessing process.
Pictionary drawings can not include letters, numbers or symbols.
In Pictionary, some of the hardest words to draw are verbs.
A video game based on Pictionary was released in 1990.
Bibliography:
Pictionary 22 January 2013 , Wikipedia, <http://en.wikipedia.org/wiki/Pictionary>
Pictionary Word Generator n.d., Word Generator,  <http://www.wordgenerator.net/pictionary-word-generator.php>