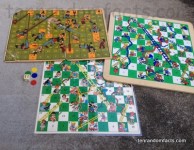 A bit of luck will give you fame in Snakes and Ladders!
Snakes and Ladders is a luck based board game with the aim to advance from the lowest square to the highest square by climbing ladders and avoiding snakes.
The board of Snakes and Ladders is a grid of squares, often 10 by 10, and the head and tail of snakes and the top and bottom of ladders that are typically pictured on the board, touch two separate squares per object.
The number of squares, ladders, and snakes, as well as their positions on the game board, each vary across different Snakes and Ladders boards, however the game is usually played with a dice or spinner, and a playing piece per person.
Landing on a snake head in Snakes and Ladders will usually cause the player to move to the respective snake tail, while landing at the base of a ladder will allow the player to move their piece to the top of the ladder.
There are numerous versions of the Snakes and Ladders game, featuring other objects to fall or slide down, or climb up, and the game is also known as 'Chutes and Ladders', particularly in America, where snakes were replaced with slides.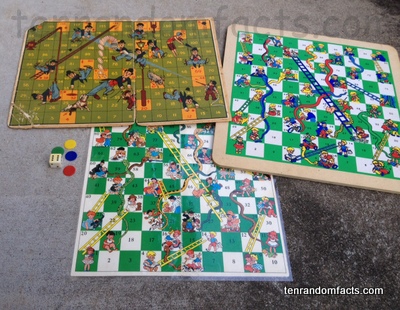 Snakes and Ladders is derived from an Ancient Indian Hindu game that was possibly played as early as the 100s BC, where the game was used to illustrate the good and bad deeds of life, and was called 'Moksha Patamu' or similar.
The game of Snakes and Ladders generally features an equal or greater number of ladders than snakes, compared to the Indian game which had more snakes than ladders, and the ladders are or were, generally associated with a positive action and consequence, while the snakes were usually associated with negative actions and consequences.
In the late 1800s, the Indian version of the Snakes and Ladders game was introduced to England, and it has been modified over the years to exclude moral or religious perspectives, though some versions have an educational purpose.
Milton Bradley recreated the Snakes and Ladders game in 1943, which was popular in Europe at the time, to suit an American audience, renaming it 'Chutes and Ladders', with the theme of playground equipment.
The player that moves first in the 100-square Milton Bradley version of Snakes and Ladders has a 50.9% chance of winning the game if two players are playing, while a game is completed, on average, after 48 turns.
Amazon: